Next Level Customer Loyalty
Engaging Consumers Long-Term
Stream the expert lecture on customer loyalty programs
Loyal customers cost less, purchase more and act as brand ambassadors. They also can support your business during disruptive times since they are more likely to go along with company changes and adapt to new business models.
But how do you generate trust in this day and age? Our expert Christian Döring gives tips and best practices in his presentation.
Building customer trust with loyalty programs is worth it
Loyalty Programs encourage your customers to interact with your brand
These programs reward loyal customers with specific incentives and personalized experiences that are exclusive and strengthen the relationship between the brand and its customers.
How can you set up a loyalty program and what different types are out there? Find out in our presentation.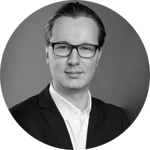 Christian Doering
B2B COMMERCE LEAD @ DIGITALL
Stream the event now
Simply fill out the form and you'll be redirected to the recording of the DIGITALL Thoughts Episode.